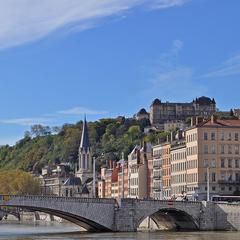 Long-Term-Luggage-Storage Lyon
Are you looking for a long-term luggage storage in the city of Lyon and the surrounding cities: Vaulx-en-Velin, Villeurbanne, Chassieu, Saint-Priest, Vénissieux, Meyzieu ?
In Lyon, you have the possibility to leave your luggage for several days, weeks or months. Discover the possible solutions for long-term storage in Lyon:
What solution to choose for baggage storage in Lyon?
3 types of possible solutions for the storage of your luggage in the city of Lyon:
Duration of less than 3 days : instructions at the Part-Dieu station.

advantages : easy access if you go through the Part-Dieu station, competitive price for the storage of a single piece of luggage and small luggage
inconveniences : expensive for several pieces of luggage (price per piece of luggage), does not accept oversized luggage (ski, bike, snowboard...), storage of maximum 3 days, you must go to the station check-in to deposit and collect your luggage, no insurance on the luggage, sometimes full during busy periods, impossibility to book online

Duration for a few hours to 1 month : mobile baggage check, baggage handling (Eelway)

advantages : a concierge comes to you to take care of your luggage and return it to you, the luggage is sealed and insured, online booking, sealed and insured luggage, cheap for the storage of several luggage over a long period of time (10 euros/night of storage, whatever the number of luggage), possibility to have it delivered and dropped off anywhere in Lyon for the same price
disadvantages : expensive over a long period of more than one month for the storage of a single piece of luggage (because 10 euros per night regardless of the number of items stored)

Duration of more than one month : furniture storage solution, storage box. Be careful with the minimum duration of the rental of the box. Some offers do not allow you to rent your box for less than 1 month. Cheap offers for much longer periods of time. (Homebox, Shurgard)

benefits : cheap over a very long period (more than a month)
disadvantages : not flexible, uninsured luggage, you have to move around in the to drop off and pick up your luggage, storage areas are often in industrial areas
How to use our luggage storage in Lyon?
Storage available
7 days a week,
24 hours a day
Your luggage
is
sealed and
insured
English speaking
support
7 days a week
We took care of their luggage
Awesome service - used in the first time in La Rochelle after finding on google. Would recommend to avoid getting stuck with luggage to cart around and will use again!
Outstanding company with a precise delivery! Good service, always sending updates! Will surely use it again! Well done Eelway
I have used this service twice now in the last year - both times without any issue. It has left me free to check out of an air bnb and still have a day in Paris without luggage.
So simple and stress free! Excellent service - thank you for helping me with my heavy bags, it gave me and extra day to explore Paris before my evening flight.
Great service and it sure beats dragging your suitcases down crowded narrow sidewalks in Paris.
Excellent service and very helpful people!!!
This service is amazing!! Definitely worth it!!
Great service. Made first day a delight.
Excellent service! Would 100% recommend. The booking process is quick and easy.
Fabulous, fabulous service! Excellent communication, kindness and promptness! Would recommend and use this service again and again!
great service, fast ,friendly staff,highly recommended
Really great service, very convenient, good value, with prompt and helpful staff. A real lifesaver!
Our partners and institutional clients