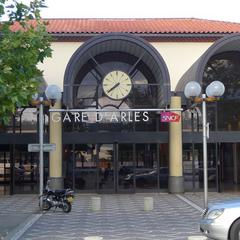 Luggage storage Arles train station
Arles is, after Rome, the city with the most Roman monuments, which led the city to be on the list of the World Heritage of UNESCO. You will have the chance to discover this ancient wealth by visiting the Roman Amphitheater, the Cryptoportiques or the Baths of Constantine, to only cite a few. Take the Alyscamps, road from Arles to St Jacques de Compostelle, free from the weight of your luggage after depositing them in our luggage partner lockers. To reach Arles train station, there are two options available to you. Either directly from Gare de Lyon in Paris, it will take you 4 hours. Either by taking a bus SNCF connection from Avignon TGV station, which is shorter in total. In Arles, the Eelway partner hotels will have the pleasure of storing your suitcases in their baggage storage to allow you to discover the largest town in metropolitan France with peace of mind. To reserve your baggage claim in Arles, simply visit this page: eelway.com/book and select in 3 clicks the deposit that suits you to keep your bags and you will finally be free from your luggage!
Eelway luggage storage in Arles train station. Professionals looking after your luggage.
Storage available
7 days a week,
24 hours a day
Your luggage
is
sealed and
insured
English speaking
support
7 days a week
The Eelway luggage storage, the easiest way to store your luggage at Arles train station
We took care of their luggage
Great !! 7 bags i was dreading to bring into Paris as i only needed them for the rest of my holidays. We traveled light. Easy peasy. Fantastic! can't recommend more!
This service was amazing. They have wonderful communication and are amazing. We went on a 3 night trip to Portugal and didn't want to take big bags with us. I definitely would use them again!
Our partners and institutional clients