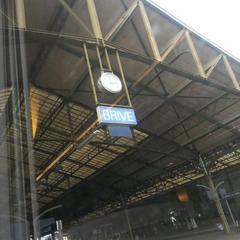 Luggage storage Brive-la-Gaillarde train station
Located between the Aquitaine Basin and the Massif Central, Brive-la-Gaillarde is one of the main towns in Corrèze. Also known as Brive, the city is rich in a varied historical heritage and has many listed monuments. Whether you are passionate about heritage or nature, Brive-la-Gaillarde is a destination that will delight many visitors! Come and discover the assets of the city and its region without your luggage. The collegiate church of Saint-Martin, the convent of the Poor Clares or the tower of the Aldermen deserve to be visited. In the surroundings of the city, the Vézère Valley gathers exceptional sites, such as the famous Lascaux cave, about fifteen of which are part of UNESCO's World Heritage List. Other famous sites such as Rocamadour, Sarlat or the Padirac abyss also have Brive-la-Gaillarde as their starting point. In order to fully enjoy the assets of the city and its region, have your luggage kept. Eelway lockers allow you to safely drop off your belongings at one of the partner hotels. Brive-la-Gaillarde station is accessible via the national lines Paris-Toulouse and Lyon-Bordeaux. Nearby, Eelway's partner hotels will welcome you to store your luggage. You can then enjoy a hands-free walk through the streets of the city centre or in the region. To book your baggage storage in Brive-la-Gaillarde, visit this page: eelway.com/book and select in a few clicks the baggage checkpoint that suits you best to keep your bags and suitcases.
Eelway luggage storage in Brive-la-Gaillarde train station. Professionals looking after your luggage.
Storage available
7 days a week,
24 hours a day
Your luggage
is
sealed and
insured
English speaking
support
7 days a week
The Eelway luggage storage, the easiest way to store your luggage at Brive-la-Gaillarde train station
We took care of their luggage
Fabulous, fabulous service! Excellent communication, kindness and promptness! Would recommend and use this service again and again! Thank you SO much!
Really great service, very convenient, good value, with prompt and helpful staff. A real lifesaver!
Our partners and institutional clients