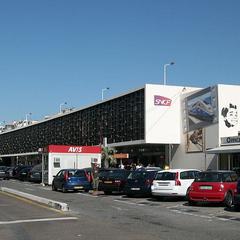 Luggage storage in Cannes train station
STORE YOUR LUGGAGE NEAR THE CANNES STATION IN OUR NETWORK OF PARTNER HOTELS. You will soon visit the seaside city of Cannes and want to enjoy your stay without having to carry your luggage with you? Discover the Eelway lockers near Cannes station. You can drop off your luggage and enjoy the Croisette, the Cannes marina and the sea air without having to worry about your luggage. Located on the French Riviera, Cannes is one of the most visited tourist cities in France. Known for its luxury hotels such as Carlton, Martinez or Majestic, Cannes is a city in which it is pleasant to stroll in order to enjoy the sun often present throughout the year. After dropping off your luggage at one of our partner hotels, you will undoubtedly enjoy Cannes' many private beaches, and once you arrive at Cannes station, located in the city centre, you will find a practical and accessible luggage locker just a stone's throw away. Select a deposit for your luggage on our booking platform by following this link: eelway.com/book. Go to the reception desk of our partner hotel and then run on the croisette to rediscover the stars' journey during the Cannes Film Festival.
How does the Eelway luggage storage service work near the
Cannes Train Station
?
1. Book your luggage storage near the Cannes Train Station by clicking here
2. Go to the reception of our partner hotel to drop off your luggage.
3. Come and pick up your bags or luggage at the reception after visiting Cannes hands free!
Eelway's partner hotels
keep an eye on your luggage
7 days a week in fully secured areas
.
Here is a list of all the cities where you will find Eelway luggage storage: our cities. We invite you to check in our booking engine that we already offer luggage storage services close to the Cannes Train Station. If you do not find a locker near the Cannes Train Station, please be aware that we will take your search into consideration and do our best to offer a luggage storage facility as soon as possible. For any other questions, go to our help center by clicking here.
Enjoy your stay in
Cannes
!
Eelway luggage storage in Cannes train station. Professionals looking after your luggage.
Storage available
7 days a week,
24 hours a day
Your luggage
is
sealed and
insured
English speaking
support
7 days a week
The Eelway luggage storage service, the easiest way to store your luggage at Cannes train station
We took care of their luggage
Five start for excellent service. Timely and friendly. Staff speak English, and the luggage was safe for entire 3 days.
I can't remember the last time I saw a company with so much respect with the customer
Our partners and institutional clients