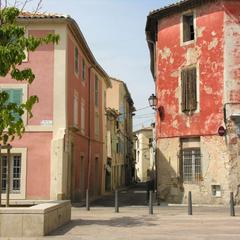 Luggage storage Carpentras train station
Are you looking for a luggage locker in Carpentras? A Mediterranean city located south of Mont Ventoux and west of the Vaucluse Mountains, Carpentras is home to a rich heritage, reflecting a history marked by the presence of the Greeks, Romans and Popes. The former Episcopal Palace, now the Palace of Justice, the Roman Arch, the Orange Gate and Saint Siffrein Cathedral are among the historic monuments to visit during a stay in Carpentras. At the same time, the city is a terroir area with AOC du Ventoux wines, bringing together around fifteen cooperative cellars and around 140 private cellars and winemakers. In the surrounding area, Avignon, the capital of the papacy in the 14th century, is located 25 kilometres away, while the Luberon regional nature park, the limestone massif of the Dentelles de Montmirail or the Gorges de la Nesque are all breathtaking natural sites less than forty kilometres away. Let yourself be tempted by an adventure in Carpentras or its surroundings without the weight of your luggage! Test Eelway's concierge service for a few hours or a few days, your bags and suitcases will be stored and kept in partner hotels in complete security. Go online to choose and book the Carpentras luggage storage adapted to your needs. Once your trip has arrived, drop off your luggage at one of our partners located in the centre of Carpentras. Freed from the weight of your belongings, you will only have to leave freely to discover the city's assets and the charms of its surroundings!
Eelway luggage storage in Carpentras train station. Professionals looking after your luggage.
Storage available
7 days a week,
24 hours a day
Your luggage
is
sealed and
insured
English speaking
support
7 days a week
The Eelway luggage storage, the easiest way to store your luggage at Carpentras train station
We took care of their luggage
incroyablement gentil et serviable. Super ponctuel. J'ai adoré
Well, honestly - there is nothing to complain. They are the best! Everything was smooth - 24 hours before you get a note saying this is the person, with their phone number sent to you.
Our partners and institutional clients