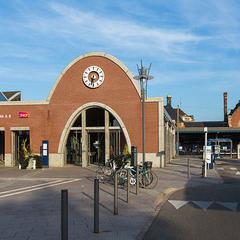 Luggage storage Colmar train station
STOCK YOUR LUGGAGE NEAR THE COLMAR STATION IN OUR NETWORK OF PARTNER HOTELS. Located 60 kilometres from Strasbourg, the city of Colmar has only about 70,000 inhabitants among its walls, but nevertheless contains numerous and invaluable treasures. Rich in a history that began as early as the 9th century, the city enjoys a very strong attractiveness linked to a cultural and architectural influence that has evolved over the centuries. Indeed, taking advantage of its status as a free city, i.e. a city directly attached to the Emperor of the Holy Roman Empire and not to a state, it became French after the Thirty Years' War, only to be finally annexed by Germany in 1871. She will only become French again after the Armistice of 1918. To say that it has a tumultuous and multi-influenced history would be a mild euphemism. The city has a rich architectural heritage (58 monuments listed in the inventory of historical monuments), with a former collegiate church, convents, canals (Colmar is sometimes called Little Venice) and medieval houses. Located in the heart of the Alsatian vineyard and at the entrance to the Vosges Piedmont, it enjoys a climate conducive to the cultivation of vines, which is why it is regularly called the capital of Alsace wines. Colmar is home to the Unterlinden Museum, which houses the famous Issenheim Altarpiece. The city hosts many festivals, including the International Music Festival in July and the Film Festival "7 days for the 7th art" in October. The Alsace wine fair hosts more than 370 exhibitors and no less than 280,000 visitors. And to make the most of everything the city has to offer, don't worry about your luggage thanks to the EELWAY locker service. Colmar station (https://www.gares-sncf.com/fr/gare/fraej/colmar) is located a stone's throw from the city centre. The Eelway partner hotels' lockers are located near the station. You will therefore be able to move easily with your hands free, without suitcases and without problems, between the beautiful beamed houses and the canals that criss-cross the city.
Eelway luggage storage in Colmar train station. Professionals looking after your luggage.
Storage available
7 days a week,
24 hours a day
Your luggage
is
sealed and
insured
English speaking
support
7 days a week
The Eelway luggage storage, the easiest way to store your luggage at Colmar train station
We took care of their luggage
Super efficient, easy to find on internet, easy to book, easy to find at airport... great staff, thank you.
Our partners and institutional clients