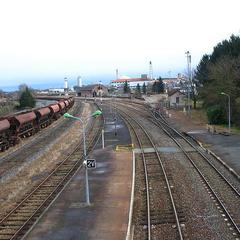 Luggage storage Commentry train station
STORE YOUR LUGGAGE NEAR THE COMMENTRY STATION IN OUR NETWORK OF PARTNER HOTELS. Commentry, the economic heart of the Montluçon basin for centuries, has preserved from its glorious industrial past the famous gate of the Manufacture des Glaces, located at the entrance to the city. Today, the mining grounds have given way to the magnificent Delbard rose gardens and nurseries, which regularly organize site visits or ephemeral sales of fruit trees and other roses. To take full advantage of it, don't forget to leave your luggage in one of our partner luggage lockers! Enjoying a perfect combination of the advantages of the city and the pleasures of the countryside, Commentry is the ideal destination for a bucolic and cultural weekend. By the A71, or by its picturesque railway station, you can easily access Commentry in just a few hours from Paris or Lyon. On the spot, stay free of your discoveries: before you walk the paths of Commentry, drop your luggage in one of the EELWAY lockers, which can be booked now on eelway.com/book."
Eelway luggage storage in Commentry train station. Professionals looking after your luggage.
Storage available
7 days a week,
24 hours a day
Your luggage
is
sealed and
insured
English speaking
support
7 days a week
The Eelway luggage storage, the easiest way to store your luggage at Commentry train station
We took care of their luggage
Fantastic service, could not recommend higher!
Our partners and institutional clients