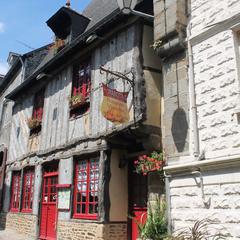 Luggage storage Dol de Bretagne train station
Entrust your luggage to Dol-de-Bretagne in our network of partner hotels Located in Bretagne, about fifty kilometres north of Rennes, Dol-de-Bretagne is also very close to Saint-Malo and Mont-Saint-Michel. This small town of 15 km2 has more than 5500 inhabitants. Its rich history is still reflected in its heritage, as evidenced, among other things, by the Saint-Samson Cathedral, whose construction began in the 13th century in honour of the monk bishop Saint Samson. It also includes the city's imposing ramparts and towers. A walk on the ramparts will offer you a breathtaking view of the Marais de Dol and Mont-Dol. Today, if Dol-de-Bretagne is an attractive destination for French and international tourists, it is due not only to this strong heritage, but also to the many cultural infrastructures that animate the daily life of the Dolois: theatres and cinema, media library, toy library, etc. And the best part is that you won't need to brave the winds and tides to reach this beautiful city of Brittany. Indeed, it is easily accessible via the main roads. It is also less than three hours from Paris by TGV, and less than one hour from Rennes by TER. Once you arrive on site, we recommend that you leave your suitcases and other bulky backpacks in a luggage locker in Dol-de-Bretagne. Enjoy secure storage 24 hours a day, for the period of your choice, and visit Dol with peace of mind. All over France, our partner hotels will be pleased to offer you their services. So, discover the city without clutter after leaving your luggage in a hotel locker. At the gates of Dol-de-Bretagne are the ten hectares of the Guyoult valley, a space that the city is striving to preserve. Ideal for nature lovers, you will contemplate a natural setting and a completely green landscape. You can also discover the culture of the region through a short ride on a sea train. A two-hour visit that will delight young and old alike, during which you will learn all about traditional fishing techniques and the mussel farming profession. All you have to do is book your train ticket (https://www.decouvrirlabaie.com/) and your Eelway luggage deposit on our website, in a few clicks, from the following link: www.eelway.com/reserver.
Eelway luggage storage in Dol de Bretagne train station. Professionals looking after your luggage.
Storage available
7 days a week,
24 hours a day
Your luggage
is
sealed and
insured
English speaking
support
7 days a week
The Eelway luggage storage, the easiest way to store your luggage at Dol de Bretagne train station
We took care of their luggage
In two words : Superb service! ; If you want an easy ride this is the way
What an amazing service! Thanks to you I could enjoy my last day in Paris.
Our partners and institutional clients