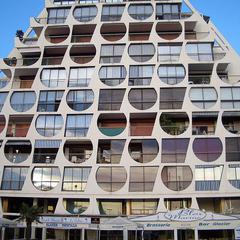 Luggage storage La Grande-Motte train station
STORE YOUR LUGGAGE NEAR THE STATION OF LA GRANDE-MOTTE IN OUR NETWORK OF PARTNER HOTELS. La Grande-Motte is a seaside resort located in Occitania near Montpellier. The city is famous for its architecture and pyramid-shaped buildings (https://www.lagrandemotte.com). Thanks to its large beach and temperate climate, this destination is perfect for a long weekend or holiday. In addition, the city has more than 7km of cycle paths. However, to take full advantage of it, do not forget to leave your luggage in one of our partner luggage lockers. You can easily reach La Grande-Motte from Montpellier by shuttle bus. From Paris, Montpellier is only 3.5 hours away by TGV. Near the beach of La Grande Motte, Eelway partner hotels will be pleased to store your luggage in their luggage lockers to allow you to discover the city with peace of mind. To book your luggage storage at La Grande-Motte, simply visit this page: eelway.com/book and select in 3 clicks the storage facility that suits you best to keep your luggage and that will allow you to finally free yourself from your luggage!
Eelway luggage storage in La Grande-Motte train station. Professionals looking after your luggage.
Storage available
7 days a week,
24 hours a day
Your luggage
is
sealed and
insured
English speaking
support
7 days a week
The Eelway luggage storage, the easiest way to store your luggage at La Grande-Motte train station
We took care of their luggage
Prompt, professional and very reliable. Easily contacted.
Fabulous, fabulous service! Would recommend and use again and again!
Our partners and institutional clients