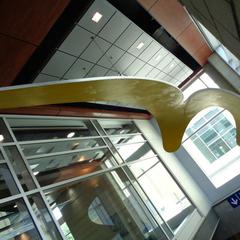 Luggage storage Laval train station
STORE YOUR LUGGAGE NEAR THE LAVAL TRAIN STATION AT ONE OF OUR PARTNER HOTEL LUGGAGE STORAGE. "Laval is the capital of Mayenne department. Built around a rocky promontory and on the banks of the Mayenne river, Laval was in the Middle Ages a key stop on the road linking Paris to Brest. Mainly oriented towards Rennes and the neighboring departments of Brittany and Normandy, Laval is a small economic centre in the west of France. The city's main tourist attractions reside in the city's medieval past. You can admire the Château de Laval overlooking the city as well as the Pont Vieux. In addition to the old castle of Laval, you will probably want to visit Château-Neuf, another monument to visit in this city full of history. To take advantage of the many guided tours offered by the tourist office, do not forget to drop off your luggage in one of our partner lockers. The Laval TGV station being accessible from Paris in 1h40, the city will be an ideal destination for a weekend. To visit the city without constraints, drop off your luggage in one of our lockers and rent a bike on Velitul, the self-service bike rental service offered by Laval Agglomération.
Eelway luggage storage in Laval train station. Professionals looking after your luggage.
Storage available
7 days a week,
24 hours a day
Your luggage
is
sealed and
insured
English speaking
support
7 days a week
The Eelway luggage storage, the easiest way to store your luggage at Laval train station
We took care of their luggage
I was very happy with the service. In the morning I had to go see clients, and then catch a train in the evening to go to the next city. Definitely did not want to wheel my huge suitcase around Paris while working! Eelway
I agree with all of the positive reviews : service works just as advertised. Very courteous and helpful delivery people. I highly recommend.
Our partners and institutional clients