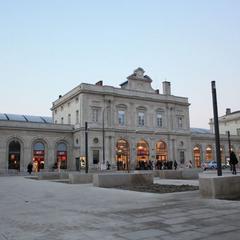 Luggage storage Reims train station
STORE YOUR LUGGAGE NEAR THE REIMS TRAIN STATION AT ONE OF OUR PARTNER HOTEL LUGGAGE STORAGE. On the edge of the Paris Basin on the Paris-Strasbourg axis, Reims or the "city of coronations", offers a strong historical and cultural heritage with no less than 3 UNESCO World Heritage Sites, including Notre-Dame Cathedral. Lady of Reims. Also, to fully discover the gastronomy and wines of Champagne-Ardenne, do not forget to leave your suitcases in the baggage lockers before visiting the champagne cellars. To get to Reims, 45 minutes by train are sufficient from the train station. East to Paris, to the TGV station Reims Center (Link: https://www.gares-sncf.com/fr/gare/frrhe/reims). The Eelway partner hotels, located close to the station, allow you to enjoy your stay empty-handed as quickly as possible. Stroll through the streets of Reims and discover the Art Deco monuments, freed from the weight of your luggage, with the hotel guidelines. To book your baggage claim in Reims, simply visit this page: eelway.com/book and select in 3 click the deposit that suits you to keep your luggage and you will finally free your luggage!
How does the Eelway luggage storage service work near the
Reims train station
?
1. Book your luggage storage near the Reims train station by clicking here
2. Go to the reception of our partner hotel to drop off your luggage.
3. Come and pick up your bags or luggage at the reception after visiting Reims hands free!
Eelway's partner hotels
keep an eye on your luggage
7 days a week in fully secured areas
.
Here is a list of all the cities where you will find Eelway luggage storage: our cities. We invite you to check in our booking engine that we already offer luggage storage services close to the Reims train station. If you do not find a locker near the Reims train station, please be aware that we will take your search into consideration and do our best to offer a luggage storage facility as soon as possible. For any other questions, go to our help center by clicking here.
Enjoy your stay in
Reims
!
Eelway luggage storage in Reims train station. Professionals looking after your luggage.
Storage available
7 days a week,
24 hours a day
Your luggage
is
sealed and
insured
English speaking
support
7 days a week
The Eelway luggage storage, the easiest way to store your luggage at Reims train station
We took care of their luggage
What a wonderful service... after years of 'what do I do with my bags before the accommodations are ready'... now there is a great service. The guys, both pick-up and drop-off were perfect. Thank you!
Very easy service to use. The staff was friendly and timely creating a fantastic overall experience.
Our partners and institutional clients