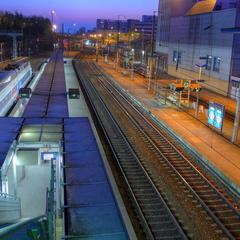 Luggage storage in Rennes train station
ENJOY YOUR STAY IN RENNES HANDS FREE WITH THE EELWAY LUGGAGE LOCKERS. Located in the North-West of France, Rennes is the administrative centre of Brittany. The city is known for its medieval houses and its huge St. Peter's Cathedral. You will also find the Fine Arts Museum of Rennes, with artworks by Picasso and Boticelli. Before your visit, do not forget to leave your luggage in one of our luggage lockers. Rennes is only 1H30 from the Montparnasse train station, pack your bags and come and visit one of the most beautiful cities in Brittany! To book your luggage deposit in Rennes, simply visit this page: eelway.com/book and select in 3 clicks the deposit that suits you to keep your luggage.
Eelway luggage storage at Rennes train station. Professionals looking after your luggage.
Storage available
7 days a week,
24 hours a day
Your luggage
is
sealed and
insured
English speaking
support
7 days a week
The Eelway luggage storage service, the easiest way to store your luggage at Rennes train station
We took care of their luggage
My travel schedule has changed and this was easy for me to contact the company and to change the luggage pick up time. The meeting location in Gare du Nord is a bit difficult to find, the staff actively contacted me and helped me out. Excellent service! I will definitely use this service again.
Great communication because I received texts and e-mail alerts about my pick up and drop off. The employees were nice and very accommodating because both times I was late. They were so understanding and helpful. Will definitely use again!!! Thank you again!!
Our partners and institutional clients