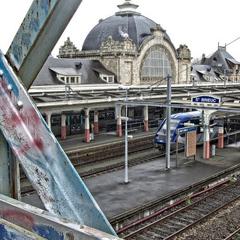 Luggage storage Saint-Brieuc train station
STORE YOUR LUGGAGE NEAR THE SAINT BRIEUC TRAIN STATION AT ONE OF OUR PARTNER HOTEL LUGGAGE STORAGE. Saint - Brieuc is located at the edge of the English Channel, a hundred kilometers from Brest and Rennes. The main attraction of the bay of Saint-Brieuc is its natural reserve (http://www.reservebaiedesaintbrieuc.com). The city is perfect to have walks by the sea. You can march along the coast and discover the Tower of Cesson, the "Anse à la Vierge" or the beach of Valais. To fully enjoy your day, do not forget to put your suitcases in one of our luggage partners. You can reach Saint-Brieuc from Montparnasse station in Paris without change and in 2H30 only. In Saint-Brieuc station, the Eelway partner hotels will have the pleasure of storing your suitcases in their baggage storage to allow you to discover the largest town in metropolitan France with peace of mind. To book your baggage claim in Saint - Brieuc, simply visit this page: eelway.com/book and select in 3 clicks the deposit that suits you to keep your bags and you will finally be free from your luggage!
Eelway luggage storage in Saint-Brieuc train station. Professionals looking after your luggage.
Storage available
7 days a week,
24 hours a day
Your luggage
is
sealed and
insured
English speaking
support
7 days a week
The Eelway luggage storage, the easiest way to store your luggage at Saint-Brieuc train station
We took care of their luggage
Really easy to register, smooth communication and exactly on time. Would recommend the service for anyone who is looking for a service to take care of your luggage while you enjoy traveling through Paris.
This is an amazing service. They picked up our bags from our Apartment at check out time. They were sealed with a plastic tie and the tracking numbers were emailed to us. They were waiting for us at the designated time and place at Orly airport in the evening. So we enjoyed a full day of travel in Paris without having to worry about our drag our luggage with us. I would highly recommend the service without any reservation. Also, I had made an error in the date while booking but it was fixed immediately when I emailed them. That was at 1 am. Excellent service. 5 our of 5 stars.
Our partners and institutional clients