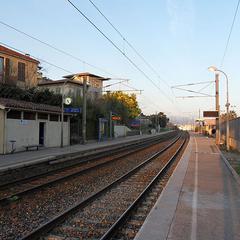 Luggage storage Saint-Laurent-du-Var Train Station
At the gateway to Nice, Saint-Laurent-du-Var is a town in the Alpes-Maritimes department. Its remarkable geographical position, along the Baie des Anges, gives it a pleasant Mediterranean climate, where mild winters follow hot summers. Do you want to go to Saint-Laurent-du-Var for a half-day, a day or a weekend? Come and discover the many activities offered by the city, without the weight of your luggage! Whether in its historic heart or along the Mediterranean coast, the city is pleasant to live in and ideal for pedestrian walks. This is reflected in the many distinctions received by the city, including ""Ville 3 Fleurs"", ""Prix Régional de l'Innovation Touristique"" and ""Aménagement du Cadre de Vie"". For water sports lovers, the beaches of Saint-Laurent-du-Var are an ideal opportunity for sailing, water skiing, catamaran, parachuting or scuba diving. Have your luggage kept and come and enjoy all the advantages of the city. With Eelway lockers, you can store your bags and suitcases in one of our partner hotels. Saint-Laurent-du-Var is easily accessible by air, car or train. Eelway partners' lockers are located in the city centre. You can then easily put your belongings in one of them before enjoying the activities with your hands free! To book your baggage locker Saint-Laurent-du-Var, go to the page: eelway.com/book and choose in just 3 clicks the baggage checkpoint that suits you best to keep your bags and suitcases.
Eelway luggage storage in Saint-Laurent-du-Var Train Station. Professionals looking after your luggage.
Storage available
7 days a week,
24 hours a day
Your luggage
is
sealed and
insured
English speaking
support
7 days a week
The Eelway luggage storage, the easiest way to store your luggage at Saint-Laurent-du-Var Train Station
We took care of their luggage
Very convenient, straightforward service that takes the stress out of transporting and storing luggage, I booked relatively last minute, with no problems. Will definitely use again.
Brilliant service ! Worked well from beginning to end ! We would definitely use again !
Our partners and institutional clients