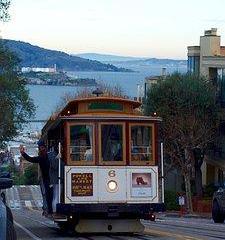 Luggage storage San Francisco
Are you looking for a luggage storage in San Francisco? Drop off your bags or suitcases in our partner network of shops and hotels. Enjoy your stay hands-free after storing your luggage in our left-luggage secure facility and enjoy San Francisco.
With Eelway, let professionals watch over your luggage while you discover San Francisco. There is no minimum or maximum storage time, drop off your luggage and bags for a few hours or even a few days in our locker. Most of our luggage storage in San Francisco are open 24 hours a day and 7 days a week.
How does our
luggage storage work in San Francisco
?
Find the perfect luggage storage near you in San Francisco
Drop off your bag in our left-luggage service
Enjoy San Francisco luggage-free
Have a nice stay in San Francisco!
How to use our luggage storage in San Francisco?
Storage available
7 days a week,
24 hours a day
Your luggage
is
sealed and
insured
English speaking
support
7 days a week
We took care of their luggage
Awesome service - used in the first time in La Rochelle after finding on google. Would recommend to avoid getting stuck with luggage to cart around and will use again!
Outstanding company with a precise delivery! Good service, always sending updates! Will surely use it again! Well done Eelway
I have used this service twice now in the last year - both times without any issue. It has left me free to check out of an air bnb and still have a day in Paris without luggage.
So simple and stress free! Excellent service - thank you for helping me with my heavy bags, it gave me and extra day to explore Paris before my evening flight.
Great service and it sure beats dragging your suitcases down crowded narrow sidewalks in Paris.
Excellent service and very helpful people!!!
This service is amazing!! Definitely worth it!!
Great service. Made first day a delight.
Excellent service! Would 100% recommend. The booking process is quick and easy.
Fabulous, fabulous service! Excellent communication, kindness and promptness! Would recommend and use this service again and again!
great service, fast ,friendly staff,highly recommended
Really great service, very convenient, good value, with prompt and helpful staff. A real lifesaver!
More information about San Francisco :
SanFrancisco is an American city located in California. Today, it's the most densely populated city in the United States just after New York, with approximately 1470 inhabitants/km2. The southern part of the San Francisco Bay Area is also the location of the silicon valley, the world's largest high-tech hub. Most of the world's largest companies have their headquarters here. It is a very touristy city, known in particular for its Golden Gate bridge, the ex-Alcatraz jail, its huge sloping streets that cut through the hills. San Francisco is also known for its sports teams with giant baseball, warriors in basketball, 49ers in American football... Sources of attraction that attracted no less than 24.5 million tourists (a record) in 2015. Many of these mostly foreign travelers hope to be able to benefit from a luggage storage service when they arrive in order to enjoy the freedom to visit this incredible city and bay without stress while waiting for their hotel room to be free. Thanks to theEelway luggage storage, San Francisco's partner hotels guarantee total security for your luggage, bags, parcels and other personal belongings will be sealed and protected to prevent theft and loss. Stop carrying your luggage with Eelway hotels in San Francisco.
Why drop off your luggage in a locker in San Francisco ?
San Francisco is a very large bay, the city centre is magnificent, the landscapes enchanting... All the travelers who arrive in this city are waiting for only one thing, to visit it. But many are trapped in their luggage while waiting for their hotel room to be free several hours after their arrival. Moving around in San Francisco with suitcases, bags... is not an easy task. There is a lot of gradient in the streets. Add to that the heat, the apprehension of the unknown and moving around with luggage can quickly become hell. These are all reasons why Eewlay offers you a useful and simple service to free yourself from your luggage and allow you to enjoy your stay in a fantastic city from the moment you arrive, or until you leave. All you have to do is choose the place among our luggage storage areas that best suits your needs and then go to enjoy the American sun on the terrace of a coffee shop or a discovery walk in the district of your choice. The advantage of Eelwayluggagelockers is that they allow you to take pictures, eat on the terrace... without the risk of losing or having your luggage stolen.
Does the city of San Francisco have its own luggage storage service ?
There are other luggage locker services in San Francisco :
Airport : In the main lobby of the international terminal. Open every day from 7am to 11pm. Rates vary according to the size of the items or luggage left. However, the conditions are strict in order to comply with safety standards.
Museums of San Francisco : The museums of San Francisco generally allow visitors to enter with luggage. However, they must remain in a suitable cloakroom. An example is the SFMOMA museum, which has a secure cloakroom for storage of luggage and bulky objects.
What are the advantages of Eelway luggage storage in San Francisco ?
The Eelwayluggagestorage service is a service that makes life as easy as possible for passengers. Conditions and constraints are less important than in luggage locker services open to the public. Indeed we accept all types of luggage within our lockers, but also parcels and slightly larger equipment such as a golf bag, a surfboard or a bicycle. San Francisco is a bay in which it is possible to practice many sports. That is why it is important to allow travelers to leave both simple luggage and the equipment they bring with them. Then go to our Eelwaybookingplatform now to book your service and enjoy your stay in San Francisco.
What are the Eelway luggage storage schedules in San Francisco ?
In order to always make life easier for travelers, the vast majority of our luggagestorage are open and available 24 hours a day, 7 days a week. Indeed, we know from experience that not all travelers arrive in the middle of the day, at peak times. Thus, in order not to penalize tourists arriving very early or very late, we accept reservations at any time.
How do I book my Eelway luggage storage service ?
To book your Eelwayluggagestorage service with complete peace of mind, here are the steps to follow :
Go to the booking engine at the following address: book.eelway.com
Enter the information to search for a luggage storage
Select the set point that suits you best
Book and enjoy!
In case of doubt, do not hesitate to contact our customer service via the chat at the bottom right of the screen.
Things to know before your stay in San Francisco :
It is important when travelling to a foreign country on the other side of the world to do so in advance, as this allows for unpleasant surprises. So here are some tips :
Check the validity date of your passport.
Apply for ESTA : an electronic form to obtain a travel authorization.
Making changes in advance, doing it on the spot is more expensive!
Take good shoes because outside the very large bay, the city of San Francisco can be visited on foot!
Choose a summer stay, the most pleasant time to visit this city and the west coast.
Activities recommended in San Francisco :
One of the most photographed sites in the world, the Golden Gate Bridge is part of an incredible landscape. To see!
The alkatraz prison: A mythical site very popular with travelers, source of many films and novels.
Take a Cable Car, the San Francisco tramway. Mythical means of transport, present in many films but above all very practical and amusing for travelers who are used to recent tramways.
Twins peak: The twin hills of San Francisco, at the top of these, you will have a 360° view of the entire San Francisco Bay Area! To do.
Our partners and institutional clients