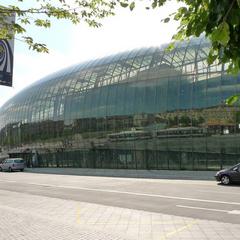 Luggage storage Strasbourg-Ville train station
You will soon be travelling to Strasbourg? Are you looking for a luggage storage for a few hours to a few days in Strasbourg train station ? As soon as you arrive in Strasbourg station, free yourself from your luggage by leaving your luggage and bags in one of our luggage storage hotel partner near the station. Located 1h45 by TGV from the Gare de l'Est in Paris, Strasbourg station offers a limited number of automatic lockers.
Major city of the Great East region, Strasbourg is a city on the Rhine, border with Germany. Rich in a thousand-year history, the city combines both Latin and Germanic influences. It has a unique cultural and architectural heritage. As proof, the entire historic centre, located on the Great Island and including the exceptional Gothic cathedral, was inscribed on UNESCO's World Heritage List in 1988. Strasbourg also has many museums which, as in the main French cities, are open to the public free of charge on the first Sunday of each month (10am to 6pm). Strasbourg's worldwide reputation is reinforced each year by the Christmas market which, with its four centuries of tradition, is the oldest Christmas market in France and one of the oldest in Europe.
Strasbourg has many assets to attract visitors so let yourself be tempted too! In addition, with Eelway's partner hotel locker service, leave your luggage in secured luggage storage areas and enjoy the city simply and freely! The baggage storage and storage offer is available every day. To benefit from it, choose and book the Strasbourg deposit that best suits your needs. When you arrive, go to one of the partner hotels located near the Strabsourg station and leave your bags and suitcases at the reception desk. They will then be stored in a secure place and you will be able to carry out your activities with ease. Book a deposit near Strasbourg station by clicking here!
Enjoy Strasbourg!
What type of luggage can you drop off in the Strasbourg train station lockers? And in the Eelway luggage storage areas? At Strasbourg station, you can store the following types of luggage:
cases
of packages
travel bags
In the Eelway luggage lockers at our partner hotels, you can store much more than what is available at Strasbourg train station. What are the maximum dimensions for these types of luggage? Here are the dimensions of the trays available at Strabsourg station:
Small rack: Height: 433 mm, Width: 347 mm, Depth: 824 mm
Medium rack : Height : 591 mm, Width : 347 mm, Depth : 824 mm
Large rack : Height : 908 mm, Width : 519 mm, Depth : 824 mm
Eelway baggage lockers allow you to drop off baggage of all sizes, without restrictions.
Luggage lockers at Strasbourg station are open every day from 6am to 10pm. Eelway's luggage storage at the receptions of our partner hotels generally welcome you every day 24 hours a day. To check the availability and opening hours of our partner hotels near Strasbourg station, we invite you to visit our booking tool.
Eelway luggage storage in Strasbourg-Ville train station. Professionals looking after your luggage.
Storage available
7 days a week,
24 hours a day
Your luggage
is
sealed and
insured
English speaking
support
7 days a week
The Eelway luggage storage, the easiest way to store your luggage at Strasbourg-Ville train station
We took care of their luggage
Super useful service!! And a very professional and efficient team. Top!
Amazing! Fast, reliable, flexible, affordable. Great clear communication and very helpful staff!!
Our partners and institutional clients