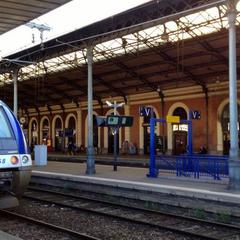 Luggage storage in Toulouse train station
STORE YOUR LUGGAGE NEAR THE TOULOUSE MATABIAU TRAIN STATION AT ONE OF OUR PARTNER HOTEL LUGGAGE STORAGE. Toulouse is an essential stop in southwestern France. Nicknamed the "pink city" for the brick that adorns the facades, Toulouse offers an ancient heritage and cultural wealth that must be discovered through the many museums of classical, medieval or contemporary art. You will also have the chance to walk along the Canal du Midi, a UNESCO World Heritage Site, after having packed your suitcases in our luggage lockers. From Paris Monparnasse, reach Toulouse Matabiau SNCF station located in the city center only 10 minutes away from The Capitole Square. The latter is the
emblematic building of Toulouse
. The Eelway partner hotels will allow you to free yourself from the weight of your baggage by providing you with their own luggage storage, just at the exit of the station. To book your baggage claim in Toulouse, simply visit this page: eelway.com/reserve and select in 3 clicks the deposit that suits you to keep your bags and you will finally be free from your luggage!
How does the Eelway luggage storage service work near the
Toulouse train station
?
1. Book your luggage storage near the Toulouse train station by clicking here
2. Go to the reception of our partner hotel to drop off your luggage.
3. Come and pick up your bags or luggage at the reception after visiting Toulouse hands free!
Eelway's partner hotels
keep an eye on your luggage
7 days a week in fully secured areas
.
Here is a list of all the cities where you will find Eelway luggage storage: our cities. We invite you to check in our booking engine that we already offer luggage storage services close to the Toulouse train station. If you do not find a locker near the Toulouse train station, please be aware that we will take your search into consideration and do our best to offer a luggage storage facility as soon as possible. For any other questions, go to our help center by clicking here.
Enjoy your stay in
Toulouse
!
Eelway luggage storage in Toulouse train station. Professionals looking after your luggage.
Storage available
7 days a week,
24 hours a day
Your luggage
is
sealed and
insured
English speaking
support
7 days a week
The Eelway luggage storage service, the easiest way to store your luggage at Toulouse train station
We took care of their luggage
It was a first experience and it proved to be very simple and practical. I therefore strongly recommend and will not hesitate to call on their services again! Good continuation
Impeccable service, the teams that come to pick up and drop off your luggage are at the top. The courier even waited for me as the luggage dragged on... 5 stars *******
Our partners and institutional clients