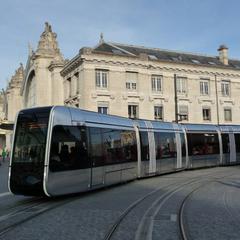 Luggage storage in Tours train station
STORE YOUR LUGGAGE NEAR THE TOURS TRAIN STATION AT ONE OF OUR PARTNER HOTEL LUGGAGE STORAGE. Located between the Cher and the Loire, Tours is the capital of the Indre et Loire. Its agglomeration, called Tours Loire Valley, was historically famous for its silk industry. It is today one of the best gateways to visit the castles of the Loire. In Tours, which is also commonly known as the white and blue city, you will be able to visit the historical center of UNESCO World Heritage without your luggage. Tours has many historic monuments, including the Clock Tower, St. Martin's Basilica, or the Charlemagne Tower. All these monuments do not necessarily accept the baggage of travelers during tourist tours. Thanks to Eelway storage network, we therefore offer to store your suitcases and other belongings in one of our partner hotels. Two stations serve the agglomeration of Tours. TGV and TER trains departing from Montparnasse station in Paris arrive either at Tours station or at Saint-Pierre des Corps station. Luggage storage at Eelway partner hotels are located near these stations. So you can easily walk your hands free, without your luggage, in the historic lanes of old Tours. To book your luggage storage in Tours, simply visit this page: eelway.com/book and select in 3 clicks the luggage storage partner that suits you to store your bags.
Eelway luggage storage at Tours train station. Professionals looking after your luggage.
Storage available
7 days a week,
24 hours a day
Your luggage
is
sealed and
insured
English speaking
support
7 days a week
The Eelway luggage storage service, the easiest way to store your luggage at Tours train station
We took care of their luggage
This service is amazing and allows to not worry about your luggage when you arrive in Paris, it will get delivered where you want. The staff was super easy to reach and find and very on time. I would definitely spread the world about this company and use them again!
Fantastic service, prompt and professional. Worry free and great value!
Our partners and institutional clients