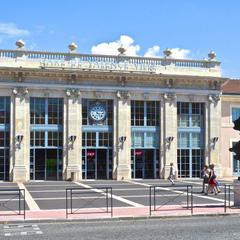 Luggage storage Valence train station
STORE YOUR LUGGAGE NEAR THE VALENCE TRAIN STATION AT ONE OF OUR PARTNER HOTEL LUGGAGE STORAGE. Located between the Vercors and Provence, Valence is a beautiful town in the Auvergne-Rhône-Alpes region. Its typical geographical situation, in the center of several mountainous massifs like the famous Massif Central earned it the name of "the door of the South of France". The city of Valence has a prominent place in the network of Cities and Countries of Art and History thanks to these many vestiges of the medieval and Renaissance periods. You can now enjoy the warmth and the wonders that the city of Valence offers without your suitcases thanks to our luggage service! All you need to do is drop off your luggage at a partner hotel near Valence Station and explore the city. To book your baggage claim in Valence, simply visit this page: eelway.com/book and select in 3 clicks the deposit that suits you to keep your luggage and that will allow you to finally free your luggage.
How does the Eelway luggage storage service work near the
Valence TGV train station
?
1. Book your luggage storage near the Valence TGV train station by clicking here
2. Go to the reception of our partner hotel to drop off your luggage.
3. Come and pick up your bags or luggage at the reception after visiting :city hands free!
Eelway's partner hotels
keep an eye on your luggage
7 days a week in fully secured areas
.
Here is a list of all the cities where you will find Eelway luggage storage: our cities. We invite you to check in our booking engine that we already offer luggage storage services close to the Valence TGV train station. If you do not find a locker near the Valence TGV train station, please be aware that we will take your search into consideration and do our best to offer a luggage storage facility as soon as possible. For any other questions, go to our help center by clicking here.
Enjoy your stay in
:city
!
Eelway luggage storage in Valence train station. Professionals looking after your luggage.
Storage available
7 days a week,
24 hours a day
Your luggage
is
sealed and
insured
English speaking
support
7 days a week
The Eelway luggage storage, the easiest way to store your luggage at Valence train station
We took care of their luggage
They promptly showed up at the beginning of the pickup time range, were in constant communication via text regarding the pickup and leter the drop off status, were promptly at the location they provided at the airport and were very fast at responding to questions I had. very convenient.
Great service and communication. On time. Highly recommended for those who dont want to hassle with carrying lugages around while enjoying Paris.
Our partners and institutional clients