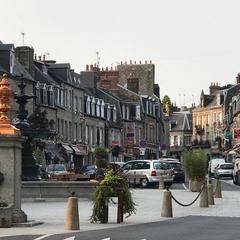 Luggage storage Villedieu train station
STORE YOUR LUGGAGE NEAR THE VILLEDIEU TRAIN STATION AT ONE OF OUR PARTNER HOTEL LUGGAGE STORAGE. Villedieu-les-Poêles is a municipality located in the Normandy department of Manche. As its name indicates, the city is known for its activity of brassware and poêlerie. It also houses a foundry of bells of France, having also provided the bells of Notre-Dame de Paris. To take full advantage of the foundry and the various copper workshops, do not forget to put your suitcases in one of our luggage partners. You can reach Villedieu-les-Poêles from Vaugirard train station in Paris without change and in only 3 hours. In Villedieu-les-Poêles station, the Eelway partner hotels will have the pleasure of storing your suitcases in their luggage lockers to allow you to discover the city of copper with peace of mind. To book your baggage in Villedieu-les-Poêles, simply visit this page: eelway.com/book and select in 3 clicks the deposit that suits you to keep your bags and you will finally free your luggage!
Eelway luggage storage in Villedieu train station. Professionals looking after your luggage.
Storage available
7 days a week,
24 hours a day
Your luggage
is
sealed and
insured
English speaking
support
7 days a week
The Eelway luggage storage, the easiest way to store your luggage at Villedieu train station
We took care of their luggage
Eelway is a blessing in disguise for me. I had an emergency situation and my bags had to be taken out of a friend's place and I had moved out of country already. The shipping agency cancelled on me, but I stumbled upon eelway and their service was impeccable. The staff kept in touch with me and walked me through everything and picked my bags up from my friend's place stored it with them and released it for pickup for my shipping agency all in a seamless manner. I thank the entire team for the cooperation and support! I think it's one of the best you can get in Paris! :)
Eelway provided excellent luggage pickup, storage and delivery for my large bicycle case. The website is well set up for booking. I needed to make changes to my pickup location; via the web chat option I was easily able to make the changes. Eelway provided tracking and delivery was well communicated and timely.
Our partners and institutional clients