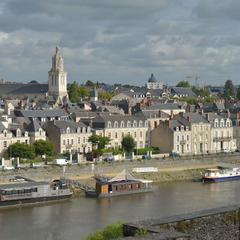 Luggage storage Angers Saint-Laud train station
Ideally located on the axis Nantes-Paris on the edge of Maine, Angers is a dynamic city and is labeled City of Art and History. You will be able to discover its castle, true historical place and masterpiece of the medieval art but also its numerous museums and temporary exhibitions. In Angers, you will now be able to participate in the various festivals that the city offers, including Anjou, the second theater festival in France, without your luggage ! Luggage storage will allow you to enjoy the wonders of which the city of Angers abounds. All you need to do is to drop off your suitcases in a partner hotel near Angers train station and explore the city! To book your drop-off point in Angers, simply visit this page: eelway.com/book and select in 3 clicks the deposit that suits you better to store your bags and you will finally free from your luggage!
Eelway luggage storage in Angers Saint-Laud train station. Professionals looking after your luggage.
Storage available
7 days a week,
24 hours a day
Your luggage
is
sealed and
insured
English speaking
support
7 days a week
The Eelway luggage storage, the easiest way to store your luggage at Angers Saint-Laud train station
We took care of their luggage
Great service and it sure beats dragging your suitcases down crowded narrow sidewalks in Paris.
AWESOME!! Job! If you want to be free from your luggage and reduce your hassles in Paris, I HIGHLY recommend to use Eelway
Our partners and institutional clients