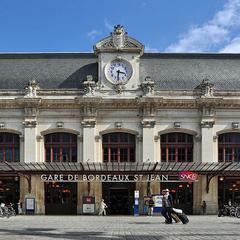 Luggage storage in Bordeaux Saint-Jean train station
You will soon be travelling in Gironde and will stop by
la gare de Bordeaux Saint-Jean
?
Free yourself from your luggage
and
stock your luggage
near
the Bordeaux Saint-Jean station
in our network of partner hotels lockers. Nearly two hours from Paris by TGV (from Montparnasse station),
Bordeaux
and its rich heritage, inscribed on the UNESCO World Heritage List since 2007, are more accessible than ever!
Bordeaux Saint-Jean
station has recently become one of the key stops on the South Europe Atlantic high-speed line. There are frequent connections with Bergerac, Périgueux, Angoulême, Agen, Pau, Libourne, La Rochelle, Limoges and Poitiers from Gare Saint-Jean. Upon arrival at
Bordeaux
, you will disembark on one of the 15 tracks of the station. Located at the end of the Cours de la Marne,
La gare de Bordeaux Saint-Jean
is known for its immense glass roof as well as for the wall map of the network of the former Compagnie du Midi, a company that started the construction work on the station in 1855. The station has only limited lockers in size and number. To lighten your load from
your luggage
once you arrive at
Bordeaux Saint-Jean station
, Eelway invites you to find a locker using the search engine available below or by using
click here
directly. In Eelway hotels near
Bordeaux Saint-Jean station, receptionists will take care of your luggage and equipment of any size that you may wish to drop off for the day. If you want to take advantage of your stay in Bordeaux to leave the city and visit the prestigious Bordeaux vineyards (Saint-Julien, Pauillac, Margaux, Sauternes, Sainte-Croix-du-Mont, etc.) without having to carry your luggage, the Eelway concierge service is for you! With just a few clicks, choose and book your luggage deposit
to
Bordeaux
for your bags and suitcases (even your bicycles, kayaks, motorcycle helmets, etc.). The set point offer is available 24 hours a day, 7 days a week. It will allow you to explore the region in complete freedom, to discover the richness of the land and this, totally free of the weight of
your luggage
! We wish you a safe journey to
La gare de Bordeaux Saint-Jean
. To find other instructions in the rest of Bordeaux, go to
here
.
Eelway luggage storage in Bordeaux Saint-Jean train station. Professionals looking after your luggage.
Storage available
7 days a week,
24 hours a day
Your luggage
is
sealed and
insured
English speaking
support
7 days a week
The Eelway luggage storage service, the easiest way to store your luggage at Bordeaux Saint-Jean train station
We took care of their luggage
Great service! Super punctual. Made my trip a lot easier! Will definitely use them every time my flight schedule allow me to extend my visit without the burden of luggage carrying
Our partners and institutional clients