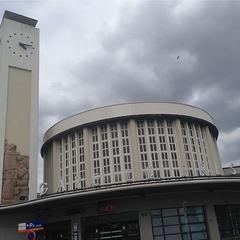 Luggage storage Brest train station
STORE YOUR LUGGAGE NEAR THE STATION OF BREST IN OUR NETWORK OF PARTNER HOTELS. Brest, the city of Ponant, is located at the western tip of Finistère. Located in a magnificent 180km2 harbour, Brest is the second largest military port in France, the French Navy supports more than 60,000 people in the Brest region. A fortified castle (https://fr.wikipedia.org/wiki/Château_de_Brest), a military port under Richelieu, the city of Brest has undergone many changes linked to its maritime activity. Brest is today a university city with several engineering and business schools, the Ecole Navale, and counts more than 25,000 students. Nightlife in Brittany is a must, especially in summer. On Thursday evenings, the commercial port of Brest gathers passers-by for a free festival of music and street art. 3 hours from Montparnasse station in Paris (https://www.eelway.com/fr/in-paris/consigne-bagages/gare/montparnasse/), Brest is the gateway to visit Finsitère and its islands at the end of the world. (Ushant, Molène, Sein Island, Glénant Archipelago) To visit the city of Brest as simply as possible, it is recommended that you leave your luggage in a hotel locker. As Brest station no longer has a locker baggage locker, our partner hotels volunteer to keep your baggage and thus offer an alternative to the disappearance of lockers in Brest. In the extremely rare event that it rains in Brest, it is still possible to enjoy the city once your luggage has been deposited in a hotel locker. The giant aquariums of Oceanopolis (http://www.oceanopolis.com/) will dazzle both young and old with more than 10,000 animals immersed in beautiful underwater scenery. The national botanical conservatory of the Stangdlard valley (http://www.cbnbrest.fr/) includes a multitude of endangered plants and covers more than 22 hectares, including 1000m2 of greenhouses. Finally, the Brest National Marine Museum, located in the castle, will show you models of boats, marine instruments and the history of the Brest arsenal. The S622 pocket submarine, on display on the terrace, will impress the youngest members of the family. Drop off your luggage and simply enjoy your day in Brest with Eelway luggage lockers. Book in a few clicks from the following link: www.eelway.com/reserver
Eelway luggage storage in Brest train station. Professionals looking after your luggage.
Storage available
7 days a week,
24 hours a day
Your luggage
is
sealed and
insured
English speaking
support
7 days a week
The Eelway luggage storage, the easiest way to store your luggage at Brest train station
We took care of their luggage
What an amazing service for people who have to check out of an apartment or hotel and your flight is later in the day. It was very convenient and easy.
Friendly, on time, great value
Our partners and institutional clients