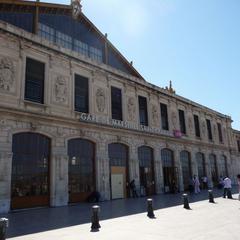 Luggage storage in Marseille Saint-Charles train station
You will soon be travelling to Marseille? Are you looking for a luggage storage for your luggage for a few hours to a few days? As soon as you arrive in Gare de Marseille Saint-Charles, free yourself from your luggage by leaving your luggage and bags in one of our luggage storage partner hotel near the station. Located 1h45 by TGV from the Gare de l'Est in Paris, Gare de Marseille Saint-Charles offers a limited number of automatic lockers.
Head of the Bouches-du-Rhône and Provence-Alpes-Côte d'azur region, Marseille is the second largest city in France. Founded in 600 BC by Greek sailors from Phoceaea, it is one of the oldest and therefore most historically significant cities in France. Marseille's openness to the Mediterranean has made it a cosmopolitan city of cultural and economic exchanges since its origins. Indeed, as France's leading port in terms of traffic, the city offers an ideal setting between maritime proximity and the beauty of the land landscape. Nicknamed the city of 111 districts, which corresponds to the number of official districts of the city, most of them have been built according to a precise scheme, with the various buildings located around the parish church. Each district has a particular identity that gives the city its exotic and cosmopolitan character. A lover of history, architecture, or quite simply the art of living, Marseille will delight travellers who venture into its narrow streets. It will delight bathers from its little corners of paradise with its coves and beaches. It will offer those seeking new flavours all the taste experiences that the sea can offer. It will offer heritage hunters a journey through time and cultures. And to conclude, what would a trip to Marseille be without visiting the Good Mother: Our Lady of the Guard. Offering a unique view of the entire city, while offering a unique architecture marked by the Second World War, it is the symbol par excellence of the city.
La gare de Marseille Saint Charles is located in the heart of the city. The Eelway partner hotels' lockers are located near the station. You will therefore be able to move easily with your hands free, without suitcases, through the city's mazes. With Eelway's partner hotel locker service, leave your luggage in luggage storage areas and enjoy the city simply and freely! The baggage storage and storage offer is available every day. To benefit from it, choose and book the deposit at Marseille Saint-Charles that best suits your needs. When you arrive, go to one of the partner hotels located near the Strabsourg station and leave your bags and suitcases at the reception desk. They will then be stored in a secure place and you will be able to carry out your activities lightly.
Book a locker near Marseille Saint-Charles station by clicking here !
Have a nice stay in Marseille Saint-Charles !
What type of luggage can you drop off in the Marseille Saint-Charles train station lockers? And in the Eelway luggage lockers facilities? At Marseille Saint-Charles station, you can store the following types of luggage:
cases
of packages
travel bags
In the Eelway luggage lockers, at our partner hotels, you can store much more than what is available at Marseille Saint-Charles station. What are the maximum dimensions for these types of luggage? Here are the dimensions of the trays available at Strabsourg station:
Small bin: Height: 433 mm, Width: 347 mm, Depth: 824 mm
Medium rack : Height : 591 mm, Width : 347 mm, Depth : 824 mm
Large bin : Height : 908 mm, Width : 519 mm, Depth : 824 mm
Eelway luggage storage areas allow you to drop off baggage of all sizes, without restrictions.
The luggage lockers at Marseille Saint-Charles train station are open every day from 6am to 10pm. Eelway's instructions at the receptions of our partner hotels welcome you every day 24 hours a day. To check the availability and schedules of our locker room near Marseille Saint-Charles station, we invite you to visit our booking tool.
Eelway luggage storage in Marseille Saint-Charles train station. Professionals looking after your luggage.
Storage available
7 days a week,
24 hours a day
Your luggage
is
sealed and
insured
English speaking
support
7 days a week
The Eelway luggage storage service, the easiest way to store your luggage at Marseille Saint-Charles train station
We took care of their luggage
Very good and simple to use service. Got a whole easy day of travel because of them.
Alexandre was extremely helpful. He picked up our bags from our Airbnb and dropped them off at the airport . Had perfect timing .
Our partners and institutional clients