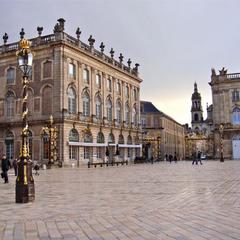 Luggage storage in Nancy train station
Located in the heart of the Grand Est region, 1h30 by TGV from Paris' Gare de l'Est and 45 minutes from Strasbourg, Nancy is above all famous for its Stanislas Square, an 18th century architectural jewel inscribed on UNESCO's World Heritage List since 1983. Place de la Carrière and Place d'Alliance, also classified as a World Heritage Site, complete this exceptional architectural ensemble. In addition to these three places, the city has many other assets such as the old city, medieval and Renaissance, and the new city of the late seventeenth century where the main shopping streets are concentrated. Through the École de Nancy, the city is also one of the major Art Nouveau cities on the Old Continent. While Nancy is ideal for a walk, how about enjoying a day or weekend free of your luggage? With Eelway's concierge service, get away from your business, even if it's not very bulky. Available every day at any time of the day, our luggage storage service will make your experience in Nancy a pleasant one! To do this, select and book a deposit online and, once in Nancy, entrust your bags and suitcases to one of our partners located not far from the station. Your belongings will be stored and kept securely. You can then stroll around the city or even allow yourself a short getaway to one of the old villages of Grand Nancy (Villers, Ludres, Vandoeuvre or Houdemont) or, depending on the weather and your taste, visit some wonders such as the Chartreuse de Bosserville in Art sur Meurthe, the Château de Fléville or the Domaine de Montaigu in Jarville la Malgrange. Make your choice! Eelway luggage storage service is available 7 days a week, 24 hours a day.
Eelway luggage storage at Nancy train station. Professionals looking after your luggage.
Storage available
7 days a week,
24 hours a day
Your luggage
is
sealed and
insured
English speaking
support
7 days a week
The Eelway luggage storage service, the easiest way to store your luggage at Nancy train station
We took care of their luggage
Excelent service!!!We used it in Paris and it worked out perfectly!They are very honest and the service is very well done! I recomend and I'll use it again! Stella and Mayron from Brasil.
They did a fantastic job. I stored my luggage for 10 days and they did fantastic job of receiving and handing off my luggage without any hassle.
Our partners and institutional clients