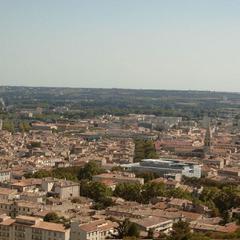 Luggage storage Nîmes train station
Located between the Mediterranean Sea and the Cévennes mountains, the city of Nimes is a great tourist destination for lovers of historical monuments and ferias. Nicknamed the ""French Rome"" because of its strong influence of the Roman Empire, it is nonetheless a city with diverse culture and history, with a very strong identity. There is so much to do and see in Nîmes that hoping to discover it in a holiday is hardly lost. Indeed, its historical, cultural and architectural heritage has enabled the city to obtain the label of city of art and history. Nîmes was created during Antiquity. From the Roman period, the city keeps an unspeakable number of monuments, such as bullring, the square house or the Magne tower at the foot of which is the Sanctuary of the Fountain. Not happy to offer a wide range of antique works to admire, its heritage is also one of the best preserved in the world. In addition, for those not interested in these vestiges of the Roman Empire, the civil or religious buildings will fill your desires. Whether it's the Notre-Dame-et-Saint-Castor cathedral, the Oratory temple or the Romanesque house, the city will please everyone. And if the architecture doesn't inspire you, the inimitable atmosphere of the famous Nimes ferias will certainly take care to remove your doubts. Practiced since the second part of the 19th century, these festivities include parades, fireworks, or even choridas. Several times a year, the city is awash with visitors coming to enjoy the pleasures that the city has to offer. And to avoid getting bogged down in its populated areas, do not worry about your luggage anymore thanks to the EELWAY deposit service. Nîmes station (https://www.gares-sncf.com/fr/gare/frfni/nimes) is located in the heart of the city. The instructions of Eelway partner hotels are located near the train station. So you can easily move your hands free, without suitcases and without problems, in the historic and festive streets of the city. So do not wait, book your deposit in Nîmes on www.eelway.com and select in 3 clicks the nearest deposit to keep your bags.
Eelway luggage storage in Nîmes train station. Professionals looking after your luggage.
Storage available
7 days a week,
24 hours a day
Your luggage
is
sealed and
insured
English speaking
support
7 days a week
The Eelway luggage storage, the easiest way to store your luggage at Nîmes train station
We took care of their luggage
Very good experience. Online payment and easy spot to leave your bags in central Paris.
This was a fantastic service we discovered while in Paris. With a full day in the city but an early check out from our accommodation we decided to give it a try. Eelway picked up our bags from our door in the early morning
Our partners and institutional clients