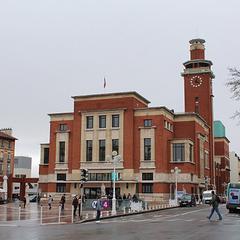 Luggage storage Montrouge
Wondering where to leave your luggage in the city of Montrouge without worrying about it? Our baggage check service in Montrouge (92120) Eelway is for you. You can retrieve them wherever and whenever you want, here's how it works. Luggage locker in Montrouge - Your day without luggage We offer luggage concierge services travelling in Paris and its surrounding suburbs. When booking your baggage check in Montrouge with Eelway, one of our concierges will travel to the place previously agreed: your home, your Airbnb, or to one of the pre-established meeting points in each station and terminal of Parisian airports. Your luggage will be sealed in front of you and kept in a secure location near the delivery location you have chosen. Once your luggage is safe, it's time to visit Montrouge and enjoy your day. Luggage services in Montrouge (92120) with Eelway, allow you to leave your luggage with a concierge when you arrive in Montrouge. We can pick up your luggage the day of your departure so that you can enjoy your last hours in Montrouge. We then bring your luggage to the airport terminal before your flight. To visit Montrouge or Paris, with your hands free, book your luggage services in Montrouge or anywhere in Paris and its airports. Our services are open 7 days a week and our customer service is at your disposal, from 6:30 am to 10 pm, for your peace of mind.
How to use our luggage storage in Montrouge?
Storage available
7 days a week,
24 hours a day
Your luggage
is
sealed and
insured
English speaking
support
7 days a week
We took care of their luggage
Awesome service - used in the first time in La Rochelle after finding on google. Would recommend to avoid getting stuck with luggage to cart around and will use again!
Outstanding company with a precise delivery! Good service, always sending updates! Will surely use it again! Well done Eelway
I have used this service twice now in the last year - both times without any issue. It has left me free to check out of an air bnb and still have a day in Paris without luggage.
So simple and stress free! Excellent service - thank you for helping me with my heavy bags, it gave me and extra day to explore Paris before my evening flight.
Great service and it sure beats dragging your suitcases down crowded narrow sidewalks in Paris.
Excellent service and very helpful people!!!
This service is amazing!! Definitely worth it!!
Great service. Made first day a delight.
Excellent service! Would 100% recommend. The booking process is quick and easy.
Fabulous, fabulous service! Excellent communication, kindness and promptness! Would recommend and use this service again and again!
great service, fast ,friendly staff,highly recommended
Really great service, very convenient, good value, with prompt and helpful staff. A real lifesaver!
Our partners and institutional clients