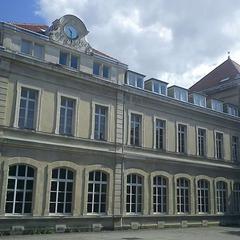 Luggage storage 4th arrondissement of Lyon
Dear visitor passing through the 4th arrondissement of Lyon, why not simplify your stay by entrusting your luggage to our mobile luggage check-in service in Lyon ?
You only have advantages with our luggage lockers in Lyon
You are freed from the tedious transport of your luggage. We take care of everything,
No worries about your luggage. They are sealed, assured, and stored in secure spaces,
Efficient customer service is at your disposal,
What to do with all this time saved in Lyon?
You are absolutely free now and the 4th arrondissement is reaching out to you with Eelway luggage lockers. Your luggage is stored in one of our luggage lockers and you can take advantage of the Croix Rousse district, walk a little to admire the fresco of the Lyonnais, the Canuts wall or visit the Rosa Mir garden.
Anything you want. You have time, and all you have to do is book a luggage locker in Lyon
How to use our luggage storage near 4th arrondissement of Lyon?
Storage available
7 days a week,
24 hours a day
Your luggage
is
sealed and
insured
English speaking
support
7 days a week
We took care of their luggage
Awesome service - used in the first time in La Rochelle after finding on google. Would recommend to avoid getting stuck with luggage to cart around and will use again!
Outstanding company with a precise delivery! Good service, always sending updates! Will surely use it again! Well done Eelway
I have used this service twice now in the last year - both times without any issue. It has left me free to check out of an air bnb and still have a day in Paris without luggage.
So simple and stress free! Excellent service - thank you for helping me with my heavy bags, it gave me and extra day to explore Paris before my evening flight.
Great service and it sure beats dragging your suitcases down crowded narrow sidewalks in Paris.
Excellent service and very helpful people!!!
This service is amazing!! Definitely worth it!!
Great service. Made first day a delight.
Excellent service! Would 100% recommend. The booking process is quick and easy.
Fabulous, fabulous service! Excellent communication, kindness and promptness! Would recommend and use this service again and again!
great service, fast ,friendly staff,highly recommended
Really great service, very convenient, good value, with prompt and helpful staff. A real lifesaver!
Our partners and institutional clients