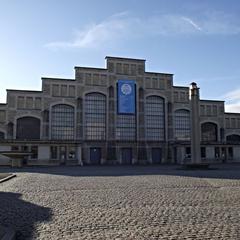 Luggage storage 7th arrondissement of Lyon
Who has never dreamed that their luggage would be taken care of by someone else? Good news, if you are passing through the 7th arrondissement of Lyon, the Eelway baggage check service makes this dream a reality.
Why choose Eelway, baggage check service in Lyon?
Your belongings are insured, sealed and stored in secure luggage lockers.
A customer service is at your disposal.
A question remains, what can you do with this time saved?
Now that you have entrusted your luggage to our luggage concierge service, you have more time to enjoy your stay.
Book and entrust your belongings to our luggage locker in Lyon, take a walk, we take care of the rest !
Why not go to a rugby match at the Matmut Stadium (address: 353 Avenue Jean Jaurès, 69007 Lyon)? Or a concert at Ninkasi Gerland (address: 267 Rue Marcel Mérieux, 69007 Lyon)? It's up to you. This is your free time! Find all the possible solutions for each district of Lyon.
How to use our luggage storage near 7th arrondissement of Lyon?
Storage available
7 days a week,
24 hours a day
Your luggage
is
sealed and
insured
English speaking
support
7 days a week
We took care of their luggage
Awesome service - used in the first time in La Rochelle after finding on google. Would recommend to avoid getting stuck with luggage to cart around and will use again!
Outstanding company with a precise delivery! Good service, always sending updates! Will surely use it again! Well done Eelway
I have used this service twice now in the last year - both times without any issue. It has left me free to check out of an air bnb and still have a day in Paris without luggage.
So simple and stress free! Excellent service - thank you for helping me with my heavy bags, it gave me and extra day to explore Paris before my evening flight.
Great service and it sure beats dragging your suitcases down crowded narrow sidewalks in Paris.
Excellent service and very helpful people!!!
This service is amazing!! Definitely worth it!!
Great service. Made first day a delight.
Excellent service! Would 100% recommend. The booking process is quick and easy.
Fabulous, fabulous service! Excellent communication, kindness and promptness! Would recommend and use this service again and again!
great service, fast ,friendly staff,highly recommended
Really great service, very convenient, good value, with prompt and helpful staff. A real lifesaver!
Our partners and institutional clients